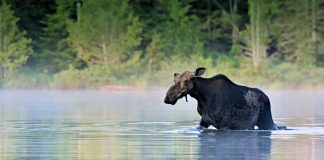 Many moose are becoming more and more frustrated with long cold winters presented to them in the northern areas of the continent. They are...
Due to an inventory error, Knoxville bookseller Books-A-Million temporarily had copies of the 16th book in the Harry Potter series on shelves last week.... Phil Bredesen, the 48th governor of Tennessee, said Monday night he would order as many as 25 members of the Civil Air Patrol and... Knoxville resident Eugene Grainger is trying to blow the world's largest bubble. So far, he has only succeeded in blowing the world's third... Just last week, Hillary Clinton sited the assassination of Robert F. Kennedy as a reason to stay in the race. Over the weekend, during... The Central Business Improvement District has unveiled new vending machines that will be placed throughout Downtown Knoxville to help with feeding the homeless. These... Even though shoppers and pharmacists alike have yet to get used to the inconvenience of having to obtain cold remedies from behind the counter,... Anonymous sources have confirmed that, if chosen as the Republican nominee for President, Mitt Romney will name Hillary Clinton as his VP running mate. ... The pastor of a West Knoxville church that handles Kentuckians in religious rites was among 7 people arrested by officers in a crackdown on... Unable to contain their anger, the Committee for Mayor Mike Ragsdale has offered a reward for information leading to the arrest of those that...